Sponsorship Opportunities
A big Thanks to our Sponsors!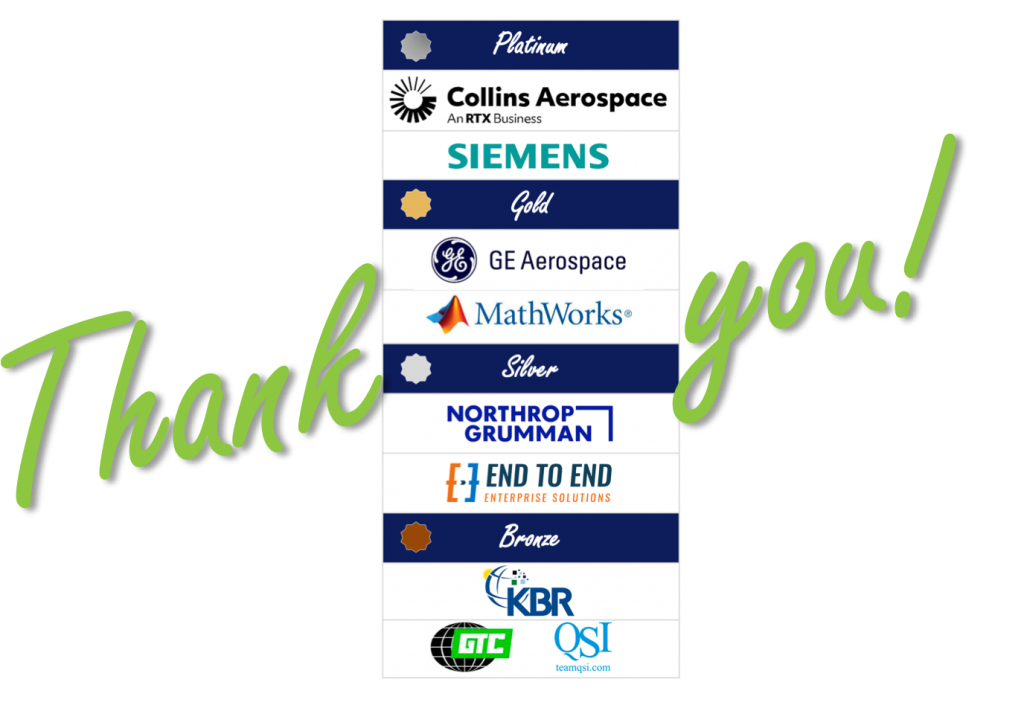 Sponsorship and Recognition Opportunities
The Prognostics and Health Management Society (PHM Society) is a non-profit organization dedicated to the advancement of PHM as an engineering discipline. It serves industry, academia and government leaders in this international community. The flagship event of the Society is the Annual Conference of the PHM Society, which will be held in Salt Lake City, UT in October 28 – November 2, 2013. Sponsorship packages are designed to offer organizations high visibility and recognition in all Society activities throughout the year, and especially during the Conference.
Conference Chairs:  chairs@phmconference.org
Benefits at a Glance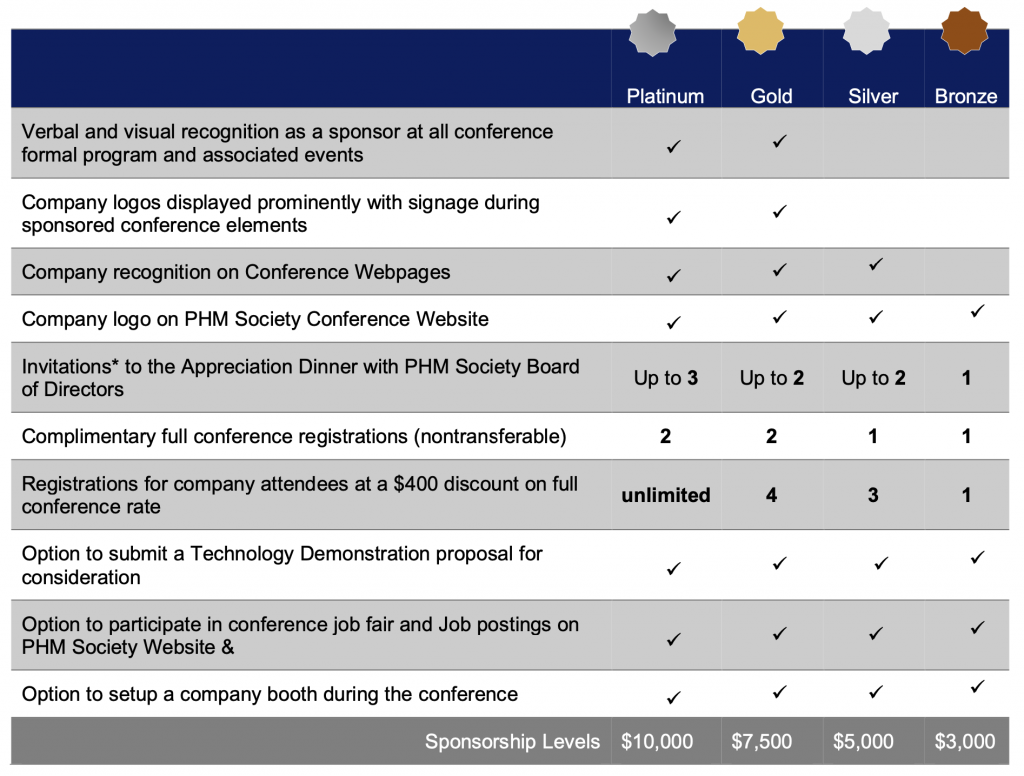 All sponsorship options include:
Recognition in the printed program and within the General Chair Presentations
Recognition on the Conference web site (name, logo, company description, and link to your web site)
A table in main area of conference networking as available (preference given to higher level sponsors)
Access to hospitality rooms for private meetings as available (preference given to higher level sponsors)
Eligible to participate in the Product Showcase (both sponsors and contributors providing $2,000 or more)
The following levels of sponsorship and recognition options have been developed to provide our sponsors with many choices to meet their needs and budget. If further customization is desired, please contact Michael Walker to discuss. Some conference recognition elements are very popular, so confirm your sponsorship early!
The Prognostics and Health Management Society is a 501(c)(3) non-profit organization. Your sponsorship contributions may be tax deductible. Please consult with the IRS or a tax professional regarding the deductibility of your contributions.
Platinum Sponsorship (Premier Recognition)
Amount
Sponsorship Package Opportunities (select one – based on availability):
• Annual conference banquet – Wednesday
• Participant for conference day consisting of all technical sessions, breakfast, AM & PM networking breaks, and the social event of the day (not including workshops, luminary session, or banquet)
• All Tutorials or Panel sessions package for the entire conference
• PHM Short Course student scholarships provided in conjunction with Conference
All options include:
• Verbal and visual recognition as a sponsor at all conference formal program and associated events
• Company logos displayed prominently with signage during sponsored conference elements
• Up to three (3) invitations* to the Appreciation Dinner with PHM Society Board of Directors
• Two (2) complimentary full conference registrations (nontransferable)
• Unlimited registrations for company attendees at a $400 discount on full conference rate
• Option to submit a Technology Demonstration proposal for consideration
• Option to setup a company booth throughout the conference
• Option to participate in job fair
≥$10,000
Gold Sponsorship (Major Recognition of a Conference Element)
Amount
Sponsorship Package Opportunities (select one – based on availability):
• Welcome networking reception – Monday
• Doctoral Symposium – Sunday or Monday
• Keynote speaker(s) presentation and appreciation gifts
• Conference lunch for all registrants – Tuesday
• Technical poster networking reception – TBD
• Awards and recognition ceremony – TBD
• Data Challenge session and awards
All options include:
• Verbal and visual recognition as a sponsor at all conference formal program and associated events
• Company logos displayed prominently with signage during sponsored conference elements
• Up to two (2) invitations* to the Appreciation Dinner with PHM Society Board of Directors
• Two (2) complimentary full conference registrations (nontransferable)
• Up to four (4) registrations for company attendees at a $400 discount on full conference rate
• Option to submit a Technology Demonstration proposal for consideration
• Option to setup a company booth throughout the conference
• Option to participate in job fair
$7,500
Silver Sponsorship (Event Recognition of a Conference Element)
Amount
Sponsorship Package Opportunities (select one – based on availability):
• Doctoral Symposium limited-participant refreshment break – Sunday
• Participant continental breakfast – Tuesday, Wednesday, or Thursday
• Smart device app for On-site conference networking
• Printed conference program booklet distributed to all registrants
• Recognition at an Invited or Panel Session with Conference Program (specially negotiated)
All options include:
• Up to two (2) invitations* to the Appreciation Dinner with the PHM Society Board of Directors
• One (1) complimentary full conference registration (nontransferable)
• Up to three (3) registrations for company attendees at a $400 discount on full conference rate
• Option to submit a Technology Demonstration proposal for consideration
• Option to setup a company booth throughout the conference
• Option to participate in job fair
$5,000
Bronze Sponsorship
Amount
Sponsorship Package Opportunities (select one – based on availability):
• AM (if available) or PM participant networking break – Monday
• AM or PM participant networking break – Tuesday
• AM or PM participant networking break – Wednesday
• AM or PM (if available) participant networking Break – Thursday
• Other shared recognition opportunities
All options include:
• One (1) invitation* to the Appreciation Dinner with the PHM Society Board of Directors
• One (1) complimentary full conference registration (nontransferable)
• One (1) registration for company attendees at a $400 discount on full conference
• Option to submit a Technology Demonstration proposal for consideration
• Option to setup a company booth throughout the conference
• Option to participate in job fair
$3,000