Round 1: Abstract Submission
Instructions
Submitted abstract should provide a brief summary of the research conducted, the expected results and conclusions, and the potential implications of those conclusions. It should briefly describe the idea and show relevance to conference topics. Extended abstracts are not solicited at this stage
A strong abstract will also:
Consist of a single paragraph with a minimum of 300 words, with correct grammar and unambiguous terminology
Be self-contained; without abbreviations, footnotes, references, or mathematical equations
Highlight the novel and critical contributions of your work
Authors are advised to use the template provided on the paper submissions page.
---
Round 2: Full Paper Submission for Review
In order to proceed with the submission, please go ahead and submit the full manuscript for peer review by the full paper deadline of May 26, 2023. You must upload your manuscripts as a revision to your original abstract submission URL (it is sent in your abstract acceptance email) and please DO NOT create a new submission.
Prospective authors are invited to contribute full-length, original, high-quality papers to the PHM 2023 Conference. Both research and industry contributions are welcome under two tracks – Technical Research Papers and Industry Experience Papers. Submitted papers will be reviewed by experts in the two tracks based on the criteria of content, significance, technical validity, innovation, writing style, accuracy, clarity, simplicity, and readability. For more information, please visit the website or contact the Technical Committee Chairs.
Technical Research Papers: These papers should describe new and carefully confirmed findings, and experimental procedures and results should be given in detail so that it is sufficient for others to replicate this work. A full-length paper should be long enough to describe and interpret the work clearly, placing it in the context of other research.
Industry Experience Papers: These can be technical briefs that focus on industrial PHM use cases and applications that focus on the implementation experience, and may not divulge potentially proprietary technical information. Typically, such papers would describe a single result, experiment, or technique and interpret the results in the context of their industrial experience. These papers could also focus on industrial applications, needs, requirements, assessments, desired program goals and status, programmatics, and metrics.
The assessment criteria for these two different tracks are as follows (Each image can be expanded by clicking on it):
Technical Research Paper

Industrial Experience Paper
Abstracts are not a prerequisite for submitting full papers. Please consider submitting a full paper to the conference even if you have not submitted an abstract for it.
---
Submission FAQs
Q. Is Abstract submission necessary?
Abstract submission is optional, however it is important in many ways and hence highly encouraged.
Submitted abstracts allow for an initial feedback before authors prepare full manuscripts to best align their papers to the conference theme and achieve higher chances of acceptance.
Abstracts also help the organizing committee to plan and put together an effective and right sized review team from experts in submitted topics.
Abstract authors lists will be used to send specific communication from time to time that may be helpful in manuscript preparation.
Authors are encouraged to submit abstracts even if the deadline has passed. If Abstract submission was missed, full length papers are still acceptable by full paper due date, which should be considered a firm deadline.
Q. What format should I use?
Formatting requirements are not enforced for abstracts. What is important is to briefly convey the idea and relevance of your proposed full paper to be submitted later. Several authors choose to use PHM Society full paper template with just the abstract field for format for reusability later, but is not mandatory.
Q. How should I submit?
Follow the paper submission link provided above. When prompted to select a Section (as shown below), authors may choose from Full Length Technical Research or Industry Experience papers for submitting the abstract if they wish to submit in either of these particular categories. If not sure, authors may choose to select Initial Abstract, and let TPC determine the appropriate category later. Later all submissions will be aligned to one of the two full length manuscripts categories.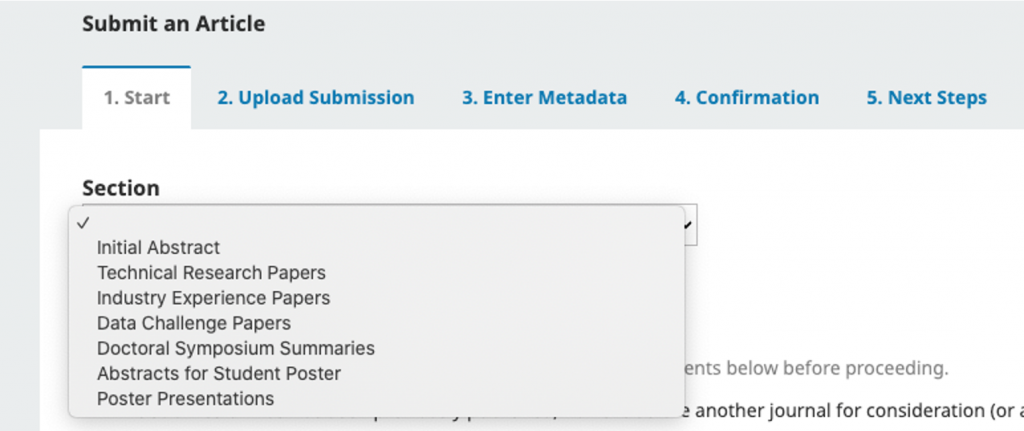 Q. Will Abstracts be reviewed and accepted or rejected?
Technical Program Committee (TPC) will review the abstracts and provide brief constructive feedback if a need in change of direction is perceived. This is primarily to help authors improve full length manuscripts that will undergo a rigorous peer review and have a better chance of acceptance. Submissions are not accepted or rejected at Abstract stage and feedback at the abstract stage does not in anyway guarantee or reflect the acceptance outcome for the full length manuscript.